DJ Green Man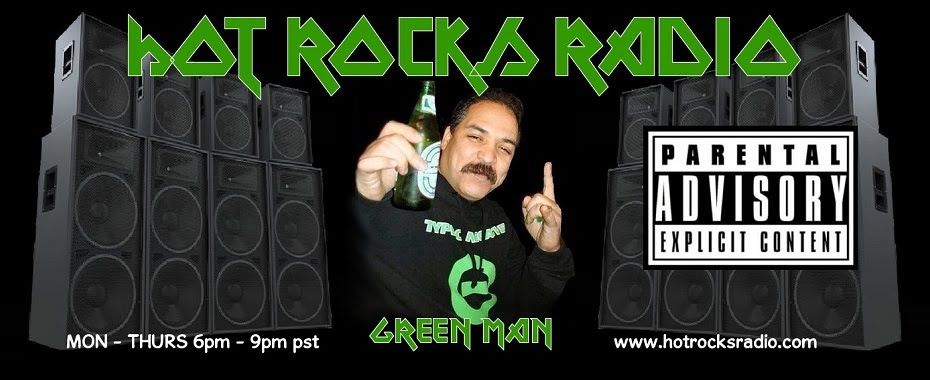 What started me on HRR?
I began my Dj journey back in 2008 while on MySpace. A friend whom I met on MySpace caught my attention because she had a banner on her wall that read, Tune In to my "Beautiful Nightmare". I asked her what she did and she said she was a Dj.
After a brief conversation about that, she asked me if I'd be interested in being a Dj. I never thought of doing that but I said heck yeah! So she got me hooked up with the program and we trained for about an hour and then she told me I was ready and that I could go on that same evening!! Whaaat!! It was my first try at it but I said Ok! I was so nervous but I soon relaxed once I got the music going and quickly got the hang of it. I was hooked!!
4 yrs later after going from station to station I finally arrived at Hot Rocks Radio on Sept. 13th 2012. But after 6 yrs of doing this I took a 5 yr break. I eventually really missed being on the air and I got in touch with our station manager Lex Santana and asked if I could come back to the station and help out and Thankfully he said Yes!
I came back to Hot Rocks Radio on Sept. 17th 2019 and I've been here ever since and I love it more than ever! Music is what gets me through life! Makes everything better and I love to share that with our listeners who are very much appreciated for tuning in and spending some time with us and enjoying music.
Favorite Genre
My favorite Genre is Rock And Roll !! Classic Rock, Hard Rock, Heavy Metal, Alternative Rock, Anything that Rocks I'm into!
Favorite Bands and Artists
Black Sabbath, Ozzy Osbourne, Led Zeppelin, KISS, AC/DC, Aerosmith, Heart, Metallica, Van Halen, Type Θ Negative.
Musical Background
I have no musical background, can't play an instrument! Bummer I know!! lol
Hobbies
I love to draw although I haven't done any serious drawing in years but I'm pretty good at it and the other would be going to concerts!! I love to support Live Music! Whether it be at a big venue or small venues, it's all about Live Music!!
DJ Name Origination
Back in 2005 I was introduced to MySpace and I was told that I didn't need to use my real name but in order to get started you had to fill in the info. So I stalled for the longest time trying to figure out what to call myself. Everything I thought of sounded so dumb to me but I was anxious to get started and thought to myself that Green is my favorite color and I'm a dude and I already had my email as sabbathman so I went with Green Man just until I could come up with a better name.
Little did I know that the friends I started to make on MySpace started calling me Green Man because that's what I put on my page. So it stuck!! And when I started to Dj I figured might as well use the same name and now that's what all my friends call me. Green Man! I still get the occasional, "So why do they call you Green Man?" Hahaha No, it's not because of that.
Favorite Music Experience
I have to say that there are 6 (sorry can't pick just one lol) that stick in my mind so vividly. The first has to be my first ever concert at 14yrs old when I saw KISS on their "Dynasty" Tour in 1979! What a mind blowing experience to see your musical super heroes Live on stage! I was in awe of the spectacle that was KISS in the 70's.
Second is definitely the first and only time I saw HEART in 1980 on the BeBe Le Strange Tour at the L.A. Forum. Ann Wilson was and is my All-Time Favorite Female Artist. I had her posters on my wall and at 15 yrs old to be in the 5th row (because I snuck myself there lol) and see her in person!! Wow, I couldn't believe she was actually real !! She was so powerful and beautiful at the same time.
Third is when I saw Van Halen for the first time on the "Fair Warning" Tour at the L.A. Forum on Michael Anthony's 27th Birthday on June 20th 1981 One of the Greatest shows I've ever seen. Yup! We sang Happy Birthday to him! lol
Fourth one is when I first got to see my main man Ozzy Osbourne in 1984 on the "Bark At The Moon" Tour Now that was an incredible show, I could not stop singing to every song and Ozzy is the Best Front Man Ever !!
Fifth is when KISS Reunited the Original band for the first time in 1996 with Makeup and the Love Gun outfits! I saw them 3 nights in a row at the L.A. Forum on Aug. 25th, 26th & 27th They were so Great!!
And Finally my Greatest joy was when I saw the Original Black Sabbath Reunite in 1998 with Ozzy Osbourne, Tony Iommi, Bill Ward and Geezer Butler !! That's my Holy Grail Concert!! My All-Time Favorite Band on stage at the L.A. Forum for 2 nights in a row!! I had seen Sabbath in 1980 but it was with Ronnie James Dio on the "Heaven And Hell" Tour but it wasn't with Ozzy !! I've been a Black Sabbath Fan since I was 8 yrs old and to this day there has NOT been a band that can dethrone them as the Best Band Ever! in my opinion.